Rent or Buy Now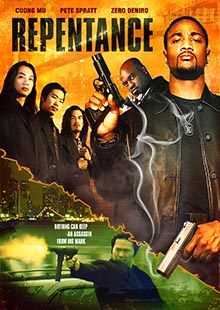 Repentance
Own It March 13, 2007
Genre: Action
Runtime: 94 Minutes
UPC: MAV-5235, 824355523522
Storyline
Lola, a beautiful, grief-stricken woman, seeks revenge when her baby brother is killed in a relentless Dallas gang war. She brings in Adrian Lincoln (UFC's Pete 'Secret Weapon' Spratt), a martial arts expert and hit man from Los Angeles, to eliminate all those involved in the murder. By cleverly setting in motion a series of events that pits the Black and Asian crime families against one another, the assassin is able to go about his vengeful killing spree undetected in the middle of their bloody gang war. Loaded with masterful fight scenes and gun battles, this exciting action flick leads to an ultimate confrontation with Adrian set against his mentor, Daddy O, the head of the Black crime family.
Directed By
GuGu E. Michaels
Cast
Pete Spratt, Zero De'Niro, Cuong Mu, C.A.P.O, Chuck Quon, Young Mun
About the Crew
Great Urban Action Appealing to Urban and Asian Demographic!.
When crime families comes head-to-head and undetected assassin takes control and runs vengeful killing spree. Ultimate mix of street fighting and martial arts mastery done right!!.