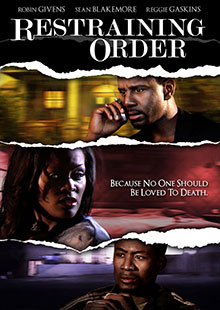 Restraining Order
Own It December 12, 2023
Genre: Drama
Runtime: 107 Minutes
UPC: MAV-5977, 824355597721
Storyline
A married woman of 10 years, longs for a life of luxury and opulence. An old flame begins to catch her eye as a means to fulfill that dream, at the cost of her jealous husband. He begins to cause a storm of terror, where she fears for her safety.
Produced By
Paula Ferguson, Heather Robinson
Directed By
Reggie Gaskins
Cast
Robin Givens, Sean Blakemore, Reggie Gaskins
About the Crew
Reggie Gaskins is an actor, director, and producer known for Friday After Next (2002), Eve (20003-2006), Teacher of the Year (2014), DWB: Dating While Black (2018), Perfectly Single (2019) and Our Christmas Love Story (2022).
Robin Givens is an actress known for Head of the Class (1986-1991), The Family that Preys (2008), Preaching to the Pastor (2009), A Christmas to Remember (2015), and Ambitions (2019).
Sean Blakemore is an actor known for The Quad (2017-2018), General Hospital (2003-2022), and Cruel Summer (2023).