Rent or Buy Now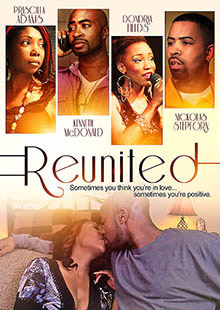 Reunited
Own It September 27, 2016
Genre: Romantic, inspirational
Runtime: 84 Minutes
UPC: MAV-5506, 824355550627
Storyline
Angel Adams is independent, beautiful and successful and has everything a woman wants, except a man. Could that change when her high school crush returns to town? Separated by a twist of fate over 10 years ago, they've now been given a second chance. Caught up in a whirlwind romance, Angel let's her guard down, and opens her heart to Broderick, but their romance comes to a skidding halt as they are forced to face one of the most critical, yet TABOO issues facing our world today. Is a life together worth the risk...or out of the question?
Produced By
Priscilla Adams
Directed By
Priscilla Adams
Cast
Kenneth McDonald, Priscilla Adams, Dondria Fields
About the Crew
Priscilla Adams is a producer and writer, known for When I Needed You (2015) and Drop Me Off (2010). 2012 Best New Filmmaker award at the seventh annual Peachtree Village International Film Festival in Atlanta.
Kenneth Duane is an actor and cinematographer, known for Chasers (2012) and Prepare for Exit (2009).
REUNITED WINS INDIE FEST'S 'AWARD OF MERIT' REUNITED WINS THE ACCOLADES' 'AWARD OF EXCELLENCE'.
Gallery