Rent or Buy Now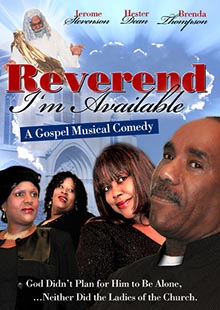 Reverend, I'm Available
Own It August 19, 2008
Genre: Gospel, Comedy
Runtime: 110 Minutes
UPC: MAV-5258, 824355525823
Storyline
Recently widowed Reverend Grady Griffin soon becomes the hottest commodity at his church as the ladies line up for their chance to win his heart. With each woman vying for his attention how is the Reverend to choose?
Directed By
Rodney L. Clark
Cast
Jerome Stevenson, Hester Dean, Sheila Asberry-Clark, Brenda Thompson, Mary Riggins, Damon Ervin
About the Crew
Reverend I'm Available features outstanding vocalists who were original cast members in the hit National Touring Gospel Stage Production of 'Reverend I'm Available.
Won Best Comedy, Audience Choice Best Picture and Best Ensemble Cast at the BARE BONES INTERNATIONAL FILM FESTIVAL
Based on the widely successful stage play 'Reverend I'm Available'.
Promoted on Facebook and Myspace.