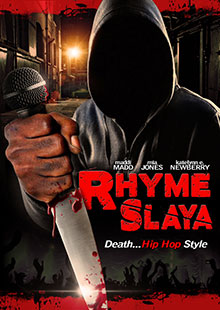 Rhyme Slaya
Own It April 27, 2021
Genre: Horror
Runtime: 100 Minutes
UPC: 824355567120, MAV-5671
Storyline
A local Hip Hop contest with a record deal attached becomes a blood soaked splatter-fest as five contestants are brutally stalked and murdered in this unique and stylistic throwback to Slasher films infused with Hip Hop.
Produced By
Maurice Thomas & Rovina Moore
Cast
Maddi Madd, Mia Jones, Katelynn Newberry
About the Crew
Maurice Thomas is a producer and director, known for Rhyme Slaya (2016), Body Cam (2015) and No Loose Ends (2018).
Mia Jones is known for her work on Dog Eat Dog (2016), Urban Cannibal Massacre (2013) and Caleb a Living Miracle (2017).
Katelynn Newberry is an actress known for Auditorium 6 (2017), Homecoming Revenge (2018), Widow's Point (2019), and Notes from Melanie (2019).