Rent or Buy Now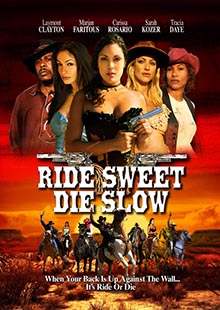 Ride Sweet Die Slow
Own It February 07, 2006
Genre: Action
Runtime: 75 Minutes
UPC: MAV-5163, 824355516326
Storyline
When their sister is killed by a band of outlaws, a group of sexy female gunslingers are gathered to avenge the death of one of their own. As the tension hits a fever pitch, the girls will do whatever it takes to right the wrong that has been done. War has been declared and with their backs up against the wall, it's Ride or Die!
Directed By
Chris W. Hill
Cast
Laymont Clayton, Johann John Jean, Marjan Faritous, Sarah Kozer, Kristian Bernard, Kira Madallo Sesay, Tricia Daye, Carissa Rosario, Jean Claude LaMarre
About the Crew
In the tradition of Bad Girls and Tombstone, this band of female western gunslingers packs a punch!.
From the director/producer who brought you the highly successful film, Gang of Roses, Ride Sweet, Die Hard is the second western featuring hot and sexy women.