Rent or Buy Now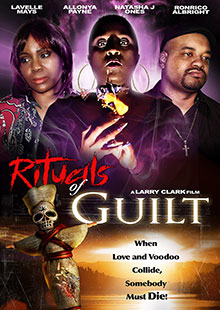 Rituals of Guilt
Own It November 06, 2018
Genre: Thriller
Runtime: 87 Minutes
UPC: MAV-5562, 824355556223
Storyline
When a young black suburban woman named Mona is devastated by the death of her first husband John, little did she know that dreams of his murder and voodoo would threaten to wreck her whole life with deadly consequences! Will she ever be able to live happily ever after? Rituals of Guilt will take you deep into the abyss of love, dreams, psychosis and voodoo!
Produced By
Larry Clark, Robert Towns
Cast
Lavelle Mays, Ronrico Albright, Allonya Payne,Traci Redmond, Sylvester Lee Brown
About the Crew
Larry Clark is an award-winning producer, writer, and director who is well known in the Memphis area. His feature film credits include 'Something About Destiny' (2007), 'Chauva' (2008), 'Twist of Fate' (2010), 'Just A Measure of Faith' (2014), 'The Paper Trail' (2016).
Ronrico Albright is an actor known for Black Oak (2016), Ease the Pain (2017), The Come Up (2017).
Sylvester Brown is an actor known for Twist of Fate (2010), Just a Measure of Faith (2014).
An urban film drama that explores mental disorder, deadly dreams, love, voodoo and murder.
Gallery