Rent or Buy Now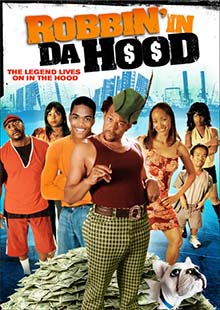 Robbin' in Da Hood
Own It June 16, 2009
Genre: Comedy
Runtime: 81 Minutes
UPC: MAV-5313, 824355531329
Storyline
Two unsuspecting and rather inexperienced crews plan to rob the same wealthy drug dealer. As luck would have it the two crews plan their robberies for the very same day, and consequently collide at the scene of the robbery. This is one hilarious double cross you don't want to miss!
Cast
Tyrone Burton, Cocoa Brown, Countrified Wedman, Danny Strong
About the Crew
Danny Strong- Nominated for an Emmy for Outstanding Writing for a Miniseries, Movie or a Dramatic Special for Recount. 'Buffy the Vampire Slayer' and 'Gilmore Girls'
Tyrone Burton- Nominated for an Independent Spirit Award for his role in Squeeze.
Vincent Ward -Who Killed Bishop Brown
Countrified Wedman- 'Heroes', 'Weeds', and 'Moonlight'
The Robbin in Da Hood trailer has a 4 ми? star rating
Promoted on Facebook and Myspace
Gallery
Gallery Images are Coming Soon.