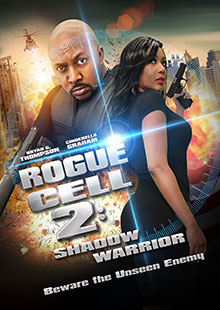 Rogue Cell: Shadow Warrior
Own It March 02, 2021
Genre: Action
Runtime: 77 Minutes
UPC: 824355567427, MAV-5674
Storyline
An Uber driver accidentally steps into a world of international assassins when he picks up the wrong passenger.
Produced By
Bryan G. Thompson
Directed By
Bryan G. Thompson
Cast
Bryan G. Thompson, Cinderella Graham, Elizabeth Elise Gonzalez, Diajesma Orozco
About the Crew
Bryan G. Thompson is an actor, writer, and director known for El Sueno (2016), Rogue Cell (2019), Thanksgiving with the Carterís (2019), and Valentineís Date (2021).
Cinderella Graham is an Actress, Model, Ms. Black California USA 2013/14, Humanitarian and Peace Activist. Cinderella acts and models in various TV Shows, Web Series, Commercials, and Feature Films including One Day of Freedom (2016), Defeated (2018), and Rogue Cell (2019).
Elizabeth Elise Gonzalez is an actress known for e-Virus (2015), River (2017), Beaten (2019), and Save Me (2020).
Gallery
Gallery Images are Coming Soon.