Rent or Buy Now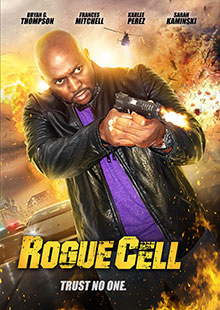 Rogue Cell
Own It September 17, 2019
Genre: Action
Runtime: 73 Minutes
UPC: MAV-5604, 824355560428
Storyline
David Shepard works for the Harris Corporation, a defense and intelligence contractor for the US government. While he was away on a mission, his wife, a scientist on top-secret projects at the US National Laboratories, was killed in an explosion. He receives a new assignment to kill five people who have been designated as threats to national security. Shortly after receiving the assignment, he receives a cryptic message that leads him to discover that the five people are linked to the death of his wife.
Produced By
Bryan G. Thompson & Brigette Rock
Directed By
Bryan G. Thompson
Cast
Bryan G. Thompson, Frances Mitchell, Karlee Perez, Sarah Kaminski
About the Crew
Bryan Thompson is an award-winning director and producer and a successful media executive. His previous productions include the film 'Noventa' (winner 'Audience Choice' at the Film Miami Fest 2015 and 'Best Short Film' at the Miami Independent Film Festival 2015) and the web series 'The Cell', winner 'Best Editing' and 'Best Visual Effects' at the Los Angeles Web Series Festival 2014. Thompson is also the founder and CEO of the Miami Web Series Festival, also known as Miami Web Fest.
Frances Mitchell is known for her work on The Outsider, Just One More Kiss (2019) and Drop Dead Diva (2009).
Karlee Perez is an actress who first gained fame with World Wrestling Entertainment as WWE's Diva 'Maxine'. Karlee is starring on the Emmy nominated television series 'Lucha Underground'.
Gallery