Rent or Buy Now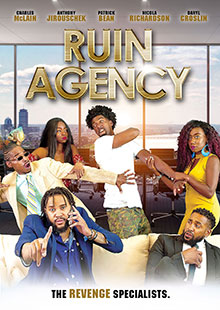 Ruin Agency
Own It March 23, 2021
Genre: Comedy
Runtime: 72 Minutes
UPC: 824355567823, MAV-5678
Storyline
Chuck has had his shares of ups and downs in this cruel world. Just when he has an opportunity to change his luck around his ex-lover has other plans. Chuck becomes frustrated and seeks assistance from Ruin Agency to get even and teach his ex-lover an unforgettable lesson.
Produced By
Tyeisha Downer
Directed By
Tyeisha Downer
Cast
Charles Mclain, Logan James, Nicola Richardson, Patrick Bean, Lashel Wilson
About the Crew
Tyeisha Downer is an author, director, writer, and producer that has written many novels and has also directed and produced Diamondz (2019), and Ruin Agency (2021).
PJ Bean is an actor known for Winter in Paradise 2020) and Ruin Agency (2021).
Kimia Workman is an actress known for Guns and Grams (2016), Burning Sands (2017), Londyn and James (2019), and Diamondz (2019).
Gallery
Gallery Images are Coming Soon.