Rent or Buy Now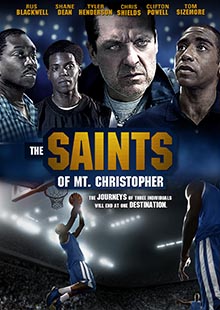 Saints of Mount Christopher
Own It February 21, 2012
Genre: Drama
Runtime: 88 Minutes
UPC: MAV-5386, 824355538625
Storyline
As a crowd holds their breath during a championship game, a basketball sensation falls dead. His death effectively ends the career of college basketball coaching legend, PHIL NEVERS. Two years later, the coach is looking to recover his career and reputation at the beleaguered Mt Christopher University. But will tensions and severe racial restraints hold back a man's attempt to resurrect his life and career as he tries to lead and inspire his team to victory?
Cast
Tom Sizemore, Clifton Powell, Rus Blackwell, Shane Dean, Tyler Henderson, Chris Shields
About the Crew
In the vein of Hoosiers and Remember the Titans, sports movies continue to thrill audiences.
Starring Tom Sizemore- Saving Private Ryan, Black Hawk Down.
Starring Clifton Powell - Winner of several NAACP awards and known for Norbit, Rush Hour and Ray.