Rent or Buy Now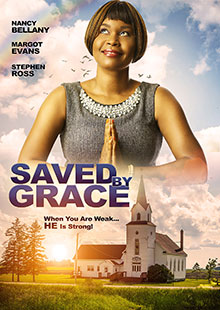 Saved By Grace
Own It January 21, 2020
Genre: Inspirational
Runtime: 70 Minutes
UPC: MAV-5623, 824355562323
Storyline
After being fired from her job, Grace Hightower applies for a position to work at the local church. Full of insecurity and self-doubt, her faith is tested when the church unexpectedly goes into foreclosure, forcing herself to find the courage to save it.
Produced By
Nancy Bellany
Directed By
Nancy Bellany
Cast
Nancy Bellany, Margot Evans, Stephen Ross, Louis 'Tre Luv' Smith, Michael 'Bear' Mcgee
About the Crew
Nancy Bellany is a stand-up comedian/writer/director/producer/actor known for Pastor Jones: Preachin' to the Choir (2009), Da' Booty Shop (2009), various shows like Southland, American Horror Story and over 40 national commercials.
Stephen Ross has performed at the Comedy Store LA, Ha Ha Club, and Ice House Comedy Club.
Gallery