Rent or Buy Now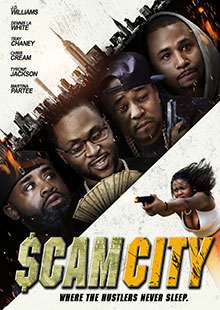 Scam City
Own It November 08, 2022
Genre: Action, Thriller
Runtime: 81 Minutes
UPC: MAV-5856, 824355585629
Storyline
In New York City, where the hustlers never sleep, comes a new world and new money. The new trap stars in the hood are the scammers living a life of luxury with their new money, expensive cars and pretty women. But they say money is the root of all evil, and some OG drug dealers from Bed-Stuy ain't liking how it's going down. They have become envious of the young scammers, and now the war is on for the money and the fame, and scamming is now the name of the game... or is it? Welcome to Scam City.
Produced By
James Hunter, Sonya Hunter, Sean Amorginos
Directed By
Derrick Hammond
Cast
J.D Williams, Dennis LA White, Tray Chaney, Chris Cream, Tyrone Jackson,Martina Partee
About the Crew
J.D Williams is an actor known for Pootie Tang (2001), The Wire (2002-2006), The Good Wife (2010-2015), and Saints and Sinners (2016-2022).
Dennis LA White is an actor known for Notorious (2009), Dysfunctional Friends (2012), Secrets (2017), and Entanglement (2021).
Tray Chaney is an actor and producer known for HBO's The Wire (2002-2008), Lorenzo & Monica (2012), Saints and Sinners (2016-2021), Secret Society (2021), and Caroltyn (2022).
Tyrone Jackson is an actor and director known for Turned Out (2019), Betrayal (2019) and Infidelity (2021).