Rent or Buy Now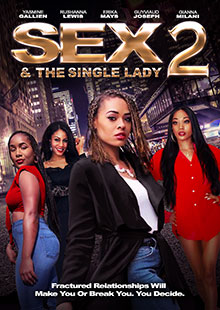 Sex and the Single Lady 2
Own It February 21, 2023
Genre: Drama, Romance
Runtime: 85 Minutes
UPC: MAV-5887, 824355588729
Storyline
Tamia, Kai, Petra and Ebony are faced with challenges that put their friendship to the test, when the ties that once bonded them are broken.
Produced By
Teri Denine, Pamela Patino
Directed By
Teri Denine|Pamela Patino
Cast
Yasmine Gallien, Gianna Milani, Rushanna Lewis, Erika Mays, Guyviaud Joseph
About the Crew
Teri Denine is a published author, producer and director of Off-Broadway stage plays, screenplays, reality shows, novels, inspirational works and scripted television series. Her novels include Whatever Gets You Through The Night (St. Martin's Press) Lovers and Liars (St. Martin's Press) and Pocket Full Of Posies (Amazon Prime).
Pamela Patino spent the majority of her career consulting with major entertainment companies, honing her professional skills to become a leader in bringing organizational structure to companies across the country. She specialized in providing staffing solutions for major entertainment conglomerates like Viacom International and many of its subsidiaries including MTV, VH1, Nickelodeon and Famous Music. Additional clientele included UMG, Warner Brothers, Sony, Bad Boy Worldwide, Violator Management, News Corp/Fox TV and Rock The Bells/LL COOL J.
Erika Mays is a former figure skater turned actress. She began her professional acting career in 2015 after moving to NYC to continue theater art studies at Hunter College. Since then, she's booked several indie projects, including The Perfect Murder (2018), Amsterdam Ave. (2019), and A Good Cop (2022).
Rushanna Lewis is an actress known for Pain & Gain (2013), Tough Love (2017), and The Stuff (2018).
Guyviaud Joseph is an actor known for Power (2017), Sister to the Groom (2020), and Harlem (2021).