Rent or Buy Now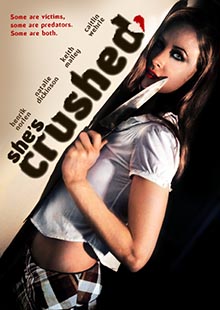 She's Crushed
Own It February 16, 2010
Genre: Horror
Runtime: 90 Minutes
UPC: MAV-5339, 824355533927
Storyline
Tara sets her sights on the unassuming guy-next-door, Ray, and their innocent flirting turns into a regretful one night stand. He is hoping to put the indiscretion safely behind him, but Tara makes it horrifically clear that she is more than willing to go to extremes to keep her man. Everyone that Ray cares about will pay for his reckless decision as they are all forced into a twisted game of love, torture, and death at the hands of sadistic Tara.
Directed By
Patrick Johnson
Cast
Henrick Nolen, Natalie Dickinson, Caitlin Wehrle, Keith Malley
About the Crew
Robert Paschall Jr. - Walking Tall: The Payback, Bruised.
Caitlin Wehrle - The Initiation of Sarah, National Lampoon's The Stoned Age.
Hunter Carson - Won a Young Artist Award for his role in Paris, Texas.
Denton Blane Everett - Desdemona: A Love Story, The Lawless, Mad Bad.
Website: http://www.crushedthemovie.com/index.html.
Myspace: http://www.myspace.com/crushedthemovie.
She's Crushed screened at the ShockerFest International Film Festival and the Spooky Movie Film Festival.