Rent or Buy Now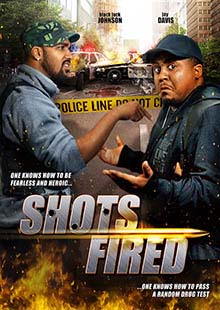 Shots Fired
Own It September 22, 2015
Genre: Action
Runtime: 124 Minutes
UPC: MAV-5495, 824355549522
Storyline
Shots Fired is an action packed comedy about two extremely opposite detectives, forced to work the biggest case of their careers. Kevin, an aggressive, burned out, thrill-seeker, has cost the city millions in damages as a result of his heroics. Marcus Banks, a weed-smoking, self-hating alcoholic who's had his uncle/captain, reprimanded on several occasions, and his fellow officers shot while on duty. Both these men have differences but they somehow work with each other to solve the murder of a world renowned scientist. Shots Fired is non-stop action/ comedy that will leave you at the edge of your seat.
Directed By
Johnny Coughlin, Jay Davis
Cast
Black Jack Johnson, Will Cummings III, Carmelo Giangrande, Jay Davis
About the Crew
Pulp Fiction Meets Bad Boys - A Quentin Tarantino-esque action/comedy about an overly aggressive, thrill-seeking detective who gets partnered up with a weed-smoking, self-hating alcoholic to try to solve the murder of a renowned scientist.
Actor Black Jack Johnson has been an actor for years has appeared in Love Jones, Soul Food, My Best Friend's Wedding, A Family Thing, Michael, and The Chamber.
Actor Will Cummings III won the 2012 Best Actor award at the Laugh or Die Film Festival in Chicago. He's appeared in more than 20 feature films including, Ed the Awakening, Vengeance Kill, Fast Zombies with Guns, Clubless and more.
Shots Fired creates a unique voice in the midst of this genre-film concoction. Featuring a story that is macho enough to appeal to those looking for something with a street mentality, but witty enough to reach a larger audience, Shots Fired proves to be one of the more interesting independent productions I have come across.' - Josh Samford - Rogue Cinema.
Director Johnny Coughlin known for MisAdventures of J Davis: Bad Dates (2011), Misadventures of J Davis: Devil's Night (2010) and Misadventures of J Davis: Sexual Harassment II (2010).
Actor / Writer Jay Davis known for Choke on That (2012), MisAdventures of J Davis: The Hostile Takeover (2011).
Actor Giovanni Pauletti - Winner of Viewer Choice Award for Gene Siskels 16th Annual Black Film Festival for Film 'No Chaser'.
Gallery