Rent or Buy Now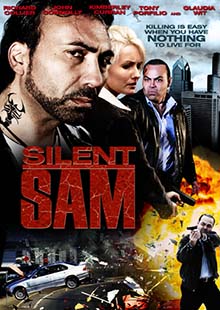 Silent Sam
Own It November 02, 2010
Genre: Action
Runtime: 91 Minutes
UPC: MAV-5360, 824355536027
Storyline
On a routine stake out things get intense when veteran cop Sam Ramirez is forced to put his gun to work, killing the Mob Boss's brother. Now, with a Mob contract on his head and a police warrant out for his arrest, Ramirez must navigate the shadows of betrayal between the mob enforcers and the police. Compelled to fight, the only thing breaking Sam's silence is the piercing sound of his gun.
Directed By
Richard Collier and John Connolly
Cast
Richard Collier, John Connolly, Kimberley Curran, David Ian Matheson
About the Crew
Carol Potter - Cindy Walsh on 'Beverly Hills, 90210', 'Sunset Beach'.
David J. Francis - The Ladies Man, Dracula 2000, Awakening.
Cheryl De Luca - Queen of the Highway, The New Job.