Rent or Buy Now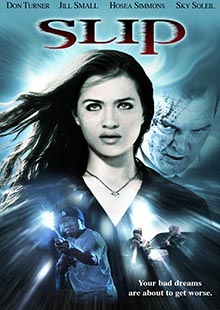 Slip
Own It November 07, 2006
Genre: Thriller
Runtime: 98 Minutes
UPC: MAV-5191, 824355519129
Storyline
Part ghost story and part street story, SLIP is a supernatural action thriller that will make your heart race and your skin crawl! Sarah witnessed her mother's murder as a child. Now a young woman haunted by the memory of her mother's death, Sarah has developed an unusual sensitivity to the paranormal world. The troubled spirits of the recently departed can to 'slip' into Sarah's body, and compel her to do their bidding. One of these spirits is the murdered nephew of Cal, a young car thief from the hood trying to go legit. Cal has just been wrongfully accused of stealing from his dangerous partners who want him dead. Sarah is drawn by the ghost of his nephew to save Cal, but must also face a vicious dark ghost from her past. Now threatened by something far more terrifying than the gun-toting criminals hot on their trail, Cal and Sarah are in a race for their souls as well as their lives!
Cast
Don Turner, Jill Small, Hosea Simmons, Sky Soleil
About the Crew
A supernatural Thriller that will keep you on the edge of your seat!
A Supernatural terror intertwined with the streets of LA… this story will take over your nightmares and carry you on to the streets!