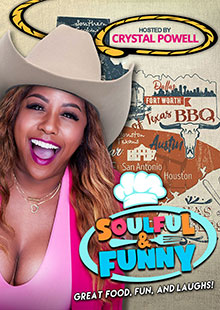 Soulful and Funny
Own It June 20, 2023
Genre: Comedy
Runtime: 118 Minutes
UPC: MAV-5946, 824355594621
Storyline
Soulful and Funny is a travel show hosted by comedian, Crystal Powell. Come ride along with Crystal throughout her home state of Texas. This adventure takes her to Austin, Houston, Fort Worth, Dallas, and San Antonio to find some of the best soul food restaurants in the area. Crystal will be joined by some of the hottest local comedians to enjoy the delicious food, culture, and laughter. This show brings the funny all while showcasing the hidden gems and soul of Texas.
Produced By
Edwin Walker, Michael A. McGowan
Directed By
Michael A. McGowan
About the Crew
Crystal Powell is an American comedian, actress and singer best known for her roles in Kevin Hart Presents: Hart of the City on Comedy Central and season 15 of America's Got Talent on NBC. Powell won the 2015 i10 Media "Influential Entertainer's Award," the Houston Improv's "Producer's Award," was named one of "Houston's All-Stars of Comedy," and In 2015, the then mayor of Houston, Annise Parker, issued an official proclamation naming September 18 as "Crystal Powell 'Laughter Heals' Day" in the City of Houston.