Rent or Buy Now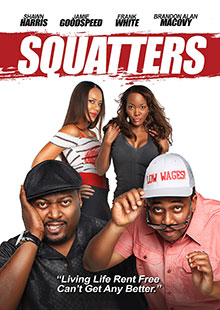 Squatters
Own It January 15, 2019
Genre: Comedy
Runtime: 77 Minutes
UPC: MAV-5587, 824355558722
Storyline
Squatters is a film about Shawn and his best friend Rodney. Two bill collectors striving to become entertainers one day come home to find their things out on the street and they no longer have a place to stay. After being forced to stay at Rodney mom house, they quickly learn that they need their own place to get away from mom's late night antics and random house guests. Shawn and Rodney learn from one of their coworkers about how to get your own home 'rent free'. They quickly jump on this opportunity and find themselves a place to stay. Between the 'Squatters' detective unit and Rodney's brother named Killa, do they have what it take to maintain this lifestyle, stay out of trouble and keep their long time girlfriends?
Directed By
Jordan Bradley
Cast
Shawn Harris, Frank White, Brandon Alan Makovy, Dominique Perry
Gallery
Gallery Images are Coming Soon.