Rent or Buy Now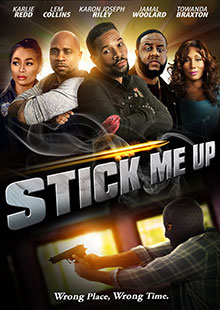 Stick Me Up
Own It March 08, 2022
Genre: Drama
Runtime: 80 Minutes
UPC: MAV-5772, 824355577228
Storyline
Held hostage in a diner, ten very different people, learn they have more in common than it appears.
Produced By
Greg Galloway, Karlie Redd, Rishard Brown
Directed By
Greg Galloway
Cast
Karon Joseph Riley, Jamal Woolard, Karlie Redd, Towanda Braxton, Ray Lavender
About the Crew
Greg Galloway is a writer, director, and producer known for The Anatomy of Love (2010), The Hills (2017), Stolen Lilies (2020), and Pinch (2020).
Karon Riley is an Ex-NFL player turned actor known for Marry Me for Christmas (2013), Insatiable (2018), Ambitions (2019), Little (2019), and Pinch (2020).
Jamal Woolard is an actor known for Notorious (2009), Barbershop: The Next Cut (2016), All Eyez on Me (2017), and Christmas on my Block (2021).
Towanda Braxton is an actress known for Braxton Family Values (2011-2020), Misguided Behavior (2017), Merry Wish-Mas (2018), and Stick Me Up (2022).