Rent or Buy Now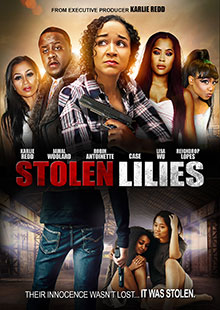 Stolen Lilies
Own It July 07, 2020
Genre: Thriller
Runtime: Minutes
UPC: MAV-5644, 824355564426
Storyline
Sandra Dennis, a social worker, whose daughter was a victim of human trafficking must race against the clock to find four girls trapped in a warehouse before they are shipped out of the country.
Produced By
Greg Galloway, Desiree Gaither, Terre S. Carter, Kenneth Carter, & John West Jr.
Directed By
Greg Galloway
Cast
Jamal Woolard, Lisa Wu, Karlie Redd, Case, Reigndrop Lopes
About the Crew
Greg Galloway is a director and producer known for The Anatomy of Love (2010), Music & Murder (2018), The Substitute Spy (2019), and Addiction by Subtraction (2019).
Karlie Redd is an actress, producer, and reality star known from Love & Hip-Hop Atlanta/New York (2012-2020), Saints & Sinners (2016-2018), I Left My Girlfriend for Regina Jones (2019).
Jamal Woolard is an actor known for playing Biggie in Notorious (2009), All Eyez on Me (2017), The Fearless One (2017), and City of Lies (2018).
Lisa Wu is a producer and actress known for The Real Housewives of Atlanta (2008-2017), Providence Island (2017), First Impression (2018), and Professor Mack (2019).
Reigndrop Lopes is an entrepreneur, actress, and producer who's known as the executive producer for the documentary 'Last Days of LeftEye' and co-producer for the album 'Eye-Legacy'.
Gallery