Rent or Buy Now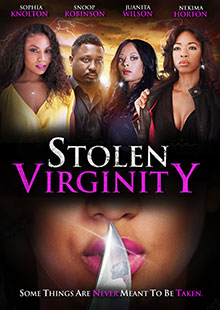 Stolen Virginity
Own It May 01, 2018
Genre: Drama, Thriller
Runtime: 104 Minutes
UPC: MAV-5557, 824355555721
Storyline
Life is all about give and take. At some point, we all have to choose a side. Travis was working his dream job, but his boss was a nightmare. When his back was against the wall, he chose to be a 'Taker'. This time he went too far... he stole a woman's most prized possession.
Produced By
Snoop Robinson, Kelvin Garmon, Fred Tee
Directed By
Snoop Robinson
Cast
Snoop Robinson, Jason Ivey, Sophia Knolton and Nekima Horton
About the Crew
Vernon Snoop Robinson is a director, producer, and actor known for She's Not Our Sister (2011), Deceptions of Love (2013), and Her Eyez (2014).
Sophia Knolton is an actress, known for Texas Voodoo Zombies (2016), Stolen Virginity (2016) and Carter High (2015) and Bold Evil Liar (2015).
Jason Ivey is known for his work on Stolen Virginity (2016), Coda (2015) and Rickey L Colbert Jr's Where the Truth Lies (2018).
KayDee Carr is an actress and producer, known for I Felon Love (2016), Exude Love (2017) and Coda (2015).
Gallery