Rent or Buy Now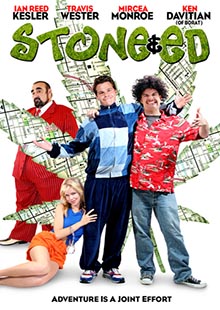 Stone & Ed
Own It January 08, 2008
Genre: Comedy
Runtime: 84 Minutes
UPC: MAV-5267, 824355526721
Storyline
It's just another hazy day for Stone and his brother Ed until they unwittingly discover they may not be brothers after all! With the help of their neighbors Stone and Ed set out on a quest to find Stone's mother. Along the way this wacky duo encounters a cast of zany characters and out of this world adventures. Somehow Stone and Ed end up in the middle of a dangerous game of cat and mouse between Mexico's largest drug lord and the C.I.A.'s most incompetent agents; The Man In The Yellow Hat and his little partner, Curious Jorge. Between mistaken identities of cases, and cases of mistaken identities, Stone and Ed are in for the trip of their lives.
Directed By
Adam Meyerowitz
Cast
Travis Wester, Ian Reed Kesler, Mircea Monroe, Jullian Dulce Vida, Ken Davitian
About the Crew
Ken Davitian the humorless Kazakh producer Azamat Bagatov in Borat Travis Wester ('CSI' and EuroTrip) Ian Reed Kesler (Lake Placid and 'the Loop') Mircea Monroe (Borderland and the Fox series 'Drive') Jullian Dulce Vida (Fun with Dick and Jane) Stoner comedy Similar to 'Half Baked' Stone & Ed: Half Baked meets American Pie
Gallery
Gallery Images are Coming Soon.