Rent or Buy Now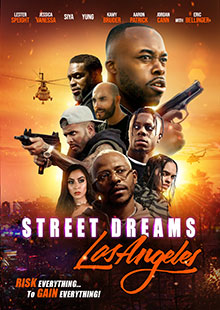 Street Dreams: Los Angeles
Own It August 06, 2019
Genre: Action
Runtime: 105 Minutes
UPC: MAV-5608, 824355560824
Storyline
After a traumatic event that takes the life of a young Elijah Wilkins' childhood friend, Elijah meets an FBI agent that sets him on the right path. He vows to indirectly avenge his friend's death by becoming an undercover cop for the LAPD with hopes of working his way into the counterintelligence division of the FBI. When he stumbles upon a case involving domestic terrorism, Elijah sees this case as the perfect opportunity that could possibly usher him in the FBI, but not without risking it all.
Produced By
Aaron Thompson, Jordan Cann, Romane Simon
Directed By
Jordan Cann and Romane Simon
Cast
Eric Bellinger, Siya, Kamy Bruder, Lester Speight, Jordan Cann, Aaron Patrick, Jessica Vanessa
About the Crew
Jordan Cann was a professional dancer now actor and producer who has worked for Will. I. Am, Britney Spears, Chris Brown and many more. He's known for Assassin's Game (2015), From Paris to Rome (2016), and Executor (2017).
Aaron Thompson is a break dancer turned actor and producer known for dancing with artists such as Jennifer Lopez, Keyshia Cole, and Usher and also known for films such as My Brother's Keeper (2015) and From Paris to Rome (2016).
Eric Bellinger is an American singer, songwriter, and record producer Best known for his co-writing credits including 'Lemme See' by Usher, 'New Flame' by Chris Brown, 'You Don't Know' by Tank, 'Right Here' by Justin Bieber, and 'Disrespectful' by Trey Songz.[1] In 2011, Bellinger won a Grammy in the category of Best R&B Album for contribution to Chris Brown's album F.A.M.E..
Lester Speight is a film and television actor best known for his portrayal of Terry Tate: Office Linebacker in a series of Reebok commercials that first aired during Super Bowl XXXVII in 2003. He is also known for My Wife and Kids (2003-2005), Harold & Kumar Escape from Guantanamo Bay (2008), Transformers: Dark of the Moon (2011), and NCIS: Los Angeles (2018).
Jessica Vanessa Deleon is an actress known for Only for One Night (2016), Til Death Do Us Part (2017), and We Belong Together (2018).
Gallery