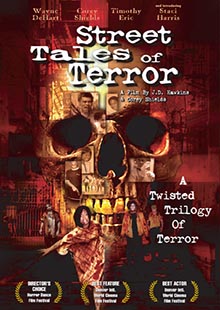 Street Tales of Terror
Own It April 12, 2005
Genre: Horror
Runtime: 87 Minutes
UPC: MAV-5104, 824355510423
Storyline
Street Tales of Terror is the Story of three killer thugs: J Dog, Keith and Peaches who terrorize a homeless man who witnessed them commit murder. While pleading for his life, the homeless man tells the trio of three 'true' tales of terror and revenge. 'The Reckoning' follows the story of Jessica, a little girl who is left to drown on dry land by her classmates after she is pushed into a swimming pool. On her birthday twenty years later, Jessica comes back to settle the score! 'The Clinic' is the second tale. It's a tale about Jaleesa Daniels, a young lady who is bout to have an abortion. While waiting she has a series of visits that question her decision and her sanity. Are the dreams real or in her head? 'Graduation Night' set in 1975, this tale follows what happens when a college student is raped during a mid-term party. As the final graduation night party ends, a special guest shows up to make the party livelier - DEADLIER!
Directed By
J.D. Hawkins & Corey Shields
Cast
Wayne DeHart, Corey Shields, Timothy Eric, and introducing Staci Harris
About the Crew
From the Director of last years direct to video hit, Wounded Hearts, J.D. Hawkins Festival Apprearances and Awards: 2004 Motor City International Film Festival, Best Feature, Best Actor (Wayne DeHart) Denver Intl World Cinema Film Festival, 2nd Place/Best Feature, 2nd Place/Best Director (J.D. Hawkins & Corey Shields) Chicago Horror Film Festival
Gallery
Gallery Images are Coming Soon.