Rent or Buy Now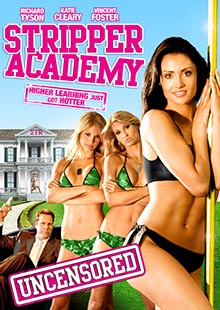 Stripper Academy
Own It January 20, 2009
Genre: Erotic
Runtime: 85 Minutes
UPC: MAV-5298, 824355529821
Storyline
The owner of a high class strip club decides to recruit more beauties by co-founding the Stripper Academy. This sophisticated boot camp teaches dancers how to move and groove like the experienced pros. The academy will accept anyone, but only a few can make it to the top of the pole.
Directed By
Vincent Foster
Cast
Richard Tyson, Katie Cleary, Vincent Foster, Gabriel Pimental, Julie Costello, Shawnie Costello
About the Crew
Won Honorable Mention for Best Original Score at the Accolade Competition
Richard Tyson -There's Something About Mary
Katie Cleary- Deal or No Deal model
Julie Costello - Juggy Girl on 'The Man Show'
Shawnie Costello - Juggy Girl on 'The Man Show'
Promoted on Myspace and Facebook
Gallery
Gallery Images are Coming Soon.