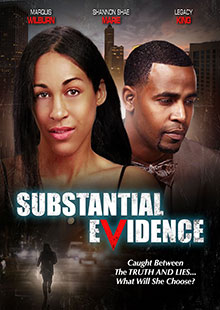 Substantial Evidence
Own It September 12, 2023
Genre: Crime, Drama
Runtime: 86 Minutes
UPC: MAV-5975, 824355597523
Storyline
Valinda Battles is an attorney who has never lost a case. She is tasked with a case involving a double homicide that took place in her hometown On a night out, Valinda meets wealthy real estate broker, Bryant Sims, and soon fall for each other. Bryant's little brother, Tyrone, threatens their relationship, his brother's freedom, and has Valinda trapped in the middle.
Produced By
Maurice Jones
Directed By
Maurice Jones
Cast
Marquis Wilburn, Shannon Shae Marie, Legacy King
About the Crew
Maurice Jones is a writer and producer know for films such as LOVE BEAT THE HELL OUT OF ME, WHAT IS IT FOR A MAN TO GAIN THE WORLD AND LOSE HIS SOUL, MEMORIES, GAIN THE WORLD, JOYFUL PRAISE AND INNOCENT BAD BOY. Maurice has also help co-produce many other films, did some acting in many films such as the movie MAGIC and many more.
Sherrell Brown is an actress and producer known for A Christmas Wish (2021), Love Beat The Hell Out of Me (2023), The Final Say (2023), and Infidelity (2023).