Rent or Buy Now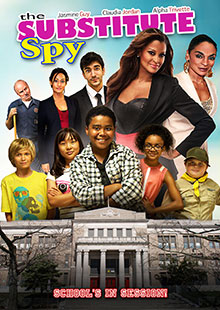 The Substitute Spy
Own It November 12, 2019
Genre: Family, Comedy
Runtime: 90 Minutes
UPC: MAV-5594, 824355559422
Storyline
A group of kids obsessed with playing video games mistakenly uncover a plot by someone in their school to control the world. At their school, they start to notice weird things from students and faculty alike. While trying to uncover the cause of suspicious activity, they find out that their substitute science teacher is a secret agent sent to bring the bad guys to justice. The motley crew of kids believe their principal is the leader of this syndicate, but they soon discover that someone they never would have thought of is the mastermind intent on world domination.
Produced By
Greg Galloway, Shawna A. George, Sherman Hudson
Directed By
Greg Galloway
Cast
Claudia Jordan, Jasmine Guy, Alpha Trivette, Grayson Thorne Kilpatrick, Nathan Theis
About the Crew
Greg Galloway is a director and producer known for The Anatomy of Love (2010), Music & Murder (2018), and Addiction by Subtraction (2019).
Jasmine Guy is an actress known for Harlem Nights (1989), A Different World (1987-93), Stomp the Yard 2 (2010), Disney's KC Undercover (2016-2017), The Christmas Pact (2018).
Claudia Jordan is a model and actress known for being Miss Rhode Island at the Miss USA pageant in 1997. She modeled for several shows such as Deal or No Deal and the Price is Right. She was a contestant on Celebrity Apprentice appeared on The Real Housewives of Atlanta. She has also starred and appeared in films such as Nora's Hair Salon (2004), Middle Men (2009), Just Love (2016), Sharknado 5 (2017), and Jason's Letter (2017).
Alpha Trivette is an actor known for playing roles such as Dr. Allen in Tyler Perry's new TV series, Too Close to Home on TLC, Israel Proctor in Banshee, Judge Stone in Drop Dead Diva, the Landlord in Tyler Perry's The Haves and Have Nots and Dr. Purks in Roanoke - Search for the Lost Colony on the History Channel.
Gallery