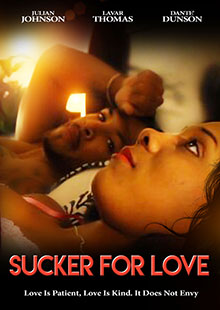 Sucker for Love
Own It May 30, 2023
Genre: Drama
Runtime: 95 Minutes
UPC: MAV-5937, 824355593723
Storyline
A young woman seeking love, finds herself in countless failed relationships, and eventually ends up assaulted and incarcerated all in the same day. Confused, hurt, and lonely Tasha, looks to God for the answers.
Cast
Julian Johnson, Lavar Thomas, Dante' Dunson
About the Crew
Chica Casey is a Producer, Singer, Songwriter and Owner of Chica & The Family Produktionz formerly Wise Produktionz, LLC (A SO Chica brand company).
She is the author of "Sucker For Love" and "Babe in Christ" Growing while walking with the Lord. She is also the founder and owner of the "SO Chica" brand. The founder of "Finding Ways to Stay Free" A Prison Ministry Empowering Men and Women to be great Leaders in a world against the odds by Turning Negative Choices into Positive Reinforcement.