Rent or Buy Now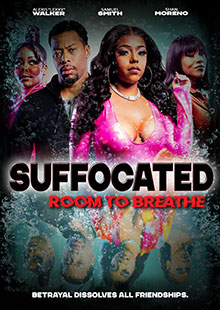 Suffocated: Room to Breathe
Own It November 21, 2023
Genre: Crime, Thriller
Runtime: 76 Minutes
UPC: MAV-6038, 824355603828
Storyline
Lexxy wants it all: money, love, kids, a home. She has got the drive, now all she needs is the path. After a stint as a party promoter and criminal, she turns to the music business. Lexxy forms a female hip hop group, with dreams of breaking into the industry. Things look promising until lies and betrayal break up the group, and dissolve all friendships.
Produced By
Mark K. Buddington, Alexis Walker
Directed By
Mark K. Buddington
Cast
Alexis "Lexxy" Walker, Shan Moreno, Samuel Smith
About the Crew
Mark K. Buddington is a director, writer, and producer known for Victoria (2021), Suffocated (2022), Dollhouse (2023) and When Girls Ride (2023).
Samuel Smith is a writer and actor known for Victoria (2021), Shades of Blue (2017-2018), See You Yesterday (2019), and Dollhouse (2023).
Lexxy is an actress and writer known for Love & Hip Hop, Suffocated (2022), When it Rains (2023), and Women of the Jury (2023).
Shan Moreno is an actress known for Hope Street Holiday, The Missing (2022), and When Girls ride (2023).