Rent or Buy Now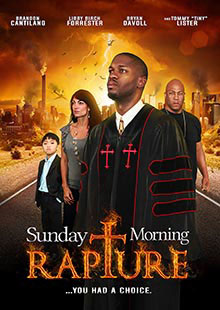 Sunday Morning Rapture
Own It June 13, 2017
Genre: Inspirational
Runtime: 72 Minutes
UPC: MAV-5531, 824355553123
Storyline
One day Jesus is coming! You may be at work, you may be at home, you may be awake or you may be asleep. God grant that you will be ready when He makes His personal appearance. What if His appearance occurs on a Sunday Morning?' Award winner Tommy 'Tiny' Lister along with sermon excerpts from Bishop William L. Sheals star in this living parable to let the world know about the second coming of Jesus Christ. Pastor Tim is a man struggling with worldly desires despite his standing in the church. Caleb and Victoria Winters are a married couple dealing with the loss and heartbreak of their second miscarriage while trying to hold themselves together for the sake of their adopted son Brandon. Riley and Katrina Kilgore are a wealthy married couple bound together by love, but unequally yoked. and Anne Roundtree believes she has her salvation on track, but she, as with all the others fatefully come to discover that they just weren't ready to face the rapture.
Produced By
William L. Sheals and Larry Small
Directed By
William L. Sheals
Cast
Bryan Davoll, Eunice Edmonds, Caleb Callahan, Gwendolyn Lindsay, Tommy "Tiny" Lister, Brandon Cantilang, Herb Bowens, Sherrie Peterson, Steve Warren, Herman Pennamon Jr.,
About the Crew
Director and producer Dr. William L. Sheals is a minister who started Hopewell in 1990, a 32-acre edifice and multifunctioning complex. He has received numerous awards and honors including The Martin Luther King Jr. Drum Major award and the Gwinnet County NAACP Lifetime Achievement Award.
Tommy 'Tiny' Lister is a basketball player turned actor known for many projects including: Zootopia (2016), No Weapon Formed Against Us (2015), American Justice (2015), Dracula 3000 (2004), Next Friday (2000), and many more.
Eric Luis Ayala is a writer and producer, known for If I Should Die Before I Wake, Sunday Morning Rapture (2011) and Devious Maids (2013).
Sunday Morning Rapture was honored by the International Christian Film Festival and received Best Feature Award at the Capital City Black Film Festival in Austin, Texas.
Gallery