Rent or Buy Now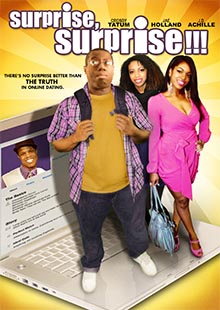 Surprise Surprise
Own It June 17, 2012
Genre: Comedy
Runtime: 108 Minutes
UPC: MAV-5447, 824355544725
Storyline
A socially-awkward, heavy-set college student conducts a Philosophy class experiment by conning his sexy, womanizing best friend into posing as 'himself' to date a beautiful, charming woman from an online dating website. He's doing all this to prevent himself from losing his scholarship, and flunking out of school. Once the truth unfolds, he realizes it was a huge mistake. Watch as the hilarity unfolds in this wacky comedy.
Cast
Crosby Tatum, Jae Holland, J.D. Achille, Kandace C. Cummings, Alison Wachtler
About the Crew
Producer and Director, Crosby Tatum also directed the Da Block Series and just finished working on the feature film The Good Life, starring Richard Gallion, (The Ideal Husband).
Alison Wachtler is an actress, known for The Exchange (2000), All My Children (1970) and Little Pen Lost (2013).
Featuring new music artists such as Nancia, Rey Royale, Carter Marie, Nate Landers, Vudoo Soul, Laz & Cat, Mpala, and more.
Gallery