Rent or Buy Now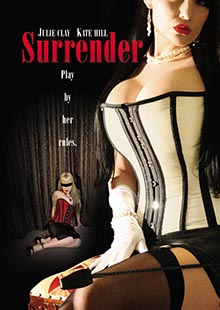 Surrender
Own It March 21, 2006
Genre: Erotic
Runtime: 72 Minutes
UPC: MAV-5171, 824355517125
Storyline
Naive newcomer, Georgia, is thrust into the intoxicating life of her charismatic lesbian housemate. Salene is a struggling writer trying to escape a haunted past by submerging herself into research about S/M. As their mutual attraction ignites, Georgia joins Salene in a tour of the S/M underground scene. When a murder occurs in an underground club, Salene is the prime suspect. While the shock of the murder, accusation brings Salene back to the mainstream, roles are reversed and Georgia takes in the role of the dominatrix. The two embark on an underground journey of whippings, submission, and hot lesbian sex at bath time.
Directed By
Katherine Brooks
Cast
Julie Clay, Kate Hill, Jon Jacobs, John Kirk
About the Crew
'A fantastic excuse for a rompy soft-core romance . . . Kate Hill (Salene) is a very sexy woman to watch on screen especially when she gets her toys out'. London Lesbian & Gay Film Festival This is a rather daring film by director/star Katherine Brooks. About one woman's descent/journey into the depths of the Los Angeles S&M scene.
Never before has the world of dangerous sexuality been explored in such a way on celluloid. It's powerful stuff. and they accomplished a lot in this movie for having such limited resources. Kudos all around to the filmmakers.
Our Miss Brooks does fine and sexy work here alongside her co-stars Jon Jacobs and Julie Clay. This is a film for adults. Not for everyone. But if you like a walk on the wild side you'll CERTAINLY want to check it out!.