Rent or Buy Now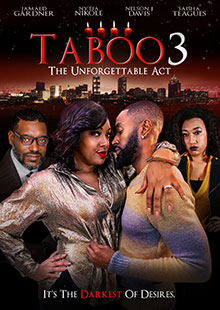 Taboo 3: The Unforgettable Act
Own It January 04, 2022
Genre: Drama, Thriller
Runtime: 83 Minutes
UPC: MAV-5786, 824355578621
Storyline
When Devin finally meets his soap star birth mother, Rebecca, as an adult, feelings go beyond family love.
Produced By
Bobby M. Peoples, Renee Peoples
Directed By
Renee Peoples, Bobby M. Peoples
Cast
Nelson J. Davis, Nytia Nikole, Renee Peoples, Jamald Gardner
About the Crew
Bobby & Renee Peoples are a husband and wife team known for Taboo (2016), Fixation (2018), Domestic Warfare (2020), and Forbidden Fruit (2021).
Nelson J. Davis is an actor and director known for Secure the Bag (2019), Unwitting Deceit (2020), Ultimatums (2020), and Halloween Kickback (2021).
Nytia Nikole is an actress known for Fixation 2 (2019), ATL Homicide (2019), and Murder Chose Me (2019).