Rent or Buy Now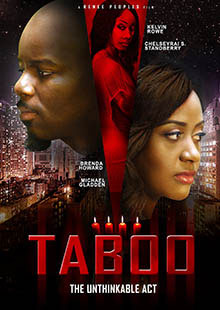 Taboo
Own It December 06, 2016
Genre: Thriller
Runtime: 88 Minutes
UPC: MAV-5520, 824355552027
Storyline
In the wake of a tragic emotional event, Angie Dobson is lead to do the unthinkable. She suffers from a history of sexual abuse. Instead of suppressing her feelings, she over indulges to satisfy her appetite for an unhealthy infatuation for her brother. These family secrets have been swept under the rug for years. Will this family be able to bounce back? Or will this family be torn apart from the acts of this Taboo.
Produced By
Bobby Peoples and Renee Peoples
Directed By
Bobby Peoples and Renee Peoples
Cast
Brenda Howard, ChelseyRai S. Standberry, Kelvin Rowe, Nina Yong Brown, Michael Gladden, Terayle Hill
About the Crew
Directors Bobby & Renee Peoples Atlanta's independent film power couple. Organizers of the TPN FILM FEST.
Michael Gladden is an actor and editor, known for IMagine (2013) and Horror Hotel the Movie (2016).
Michelle Valines is an actress, known for Demented Love (2016) and Breeze (2014).
ChelseaRai Standberry began her entertainment career in media as the first host and co-producer of Witness The Realist (WTR TV) based out of Cleveland, OH, promoting underground music and talent on four television stations throughout Ohio for over 5 years. She's also an actress known for Demented Love (2016) and Love and Success (2015).
Gallery