Rent or Buy Now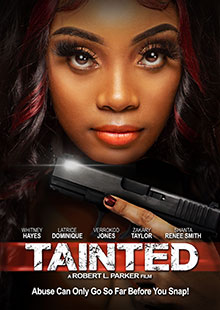 Tainted
Own It April 11, 2023
Genre: Thriller
Runtime: 107 Minutes
UPC: 824355591828, 01:47:06
Storyline
After growing up in an abusive home from her Mom, Desi continuously runs into problems with men treating her the way her Mom did, until she snaps.
Produced By
Robert L. Parker III
Directed By
Robert L. Parker III
Cast
Whitney Hayes, Latrice Dominique, Verrokco Jones, Zakary Taylor, Shanta Renee Smith
About the Crew
Robert L. Parker is a director and actor known for The Struggle (2019), Deceptive Intentions (2021), Lot Lizards (2022), and Sweet Revenge (2022).
Latrice Dominique is an actress known for Queen Angie (2023), Da Neighborhood Dopemane (2023), and Twisted Games (2023).