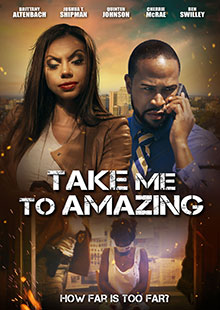 Take me to Amazing
Own It May 10, 2022
Genre: Crime, Thriller
Runtime: 81 Minutes
UPC: MAV-5829, 824355582925
Storyline
When a detective is assigned to a missing persons case, she stumbles into an underworld of lies and deception.
Produced By
Lawrence Bruce Moore, Marquand Ragland, Amiri Thompson, Matthew Smith, Eric Huynh
Directed By
Amiri Thompson
Cast
Brittany Altenbach, Joshua T. Shipman, Quinten Johnson, Cherrie McRae, Ben Swilley
About the Crew
Joshua T. Shipman is an actor known for Harriet (2019), Kingdom Men (2020), and A Christmas Proposal (2021).
Amiri Thompson is an actor, writer, and director known for Drowning (2016), Crossover (2020), and The Dating Game (2021).
Cherrie McRae is an actress known for Gentrification (2018), Multiple (2019), and American Gangster Presents: Big 50
Gallery
Gallery Images are Coming Soon.