Rent or Buy Now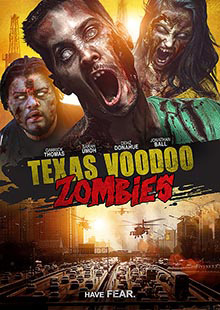 Texas Voodoo Zombies
Own It April 19, 2016
Genre: Horror
Runtime: 98 Minutes
UPC: MAV-5513, 824355551327
Storyline
Ex-con Doobie Jones is faced with a dilemma, find a real job or go back to jail. Just when he thinks his luck has changed, Voodoo priestess Sabrina, casts a spell converting a deadly concoction into a powerful zombie formula. He has a tough decision to make, stand and fight, or run like hell.
Produced By
Victor McGlothin, Terre McGlothin
Directed By
Victor McGlothin
Cast
Garrick Thomas, Sarah Umoh, Jon Ball, Dehz Donahue
About the Crew
Essence Best Selling Author, Victor McGlothin, weaves passionate tales of suspense and drama, ('What's A Woman To Do?' 'Every Sistah Wants It,' and 'Down on My Knees and more') has book clubs across adding his novels to their Must-Read lists. McGlothin, also an on-line columnist of 'Victor Said', a real look at relationships - his loyal readers hail him as a refreshing voice in African American fiction.
Actress Gin Blanton, known for My Week, The Other Sister (2011) and Deceptions of Love (2013).
Actress Sarah Umoh, known for, On the Radio (2013) Inspector Mom: Kidnapped in Ten Easy Steps (2007).
Actress and Producer, KayDee Carr, known for Lethe (2014), Pieces (2016).
Gallery