Rent or Buy Now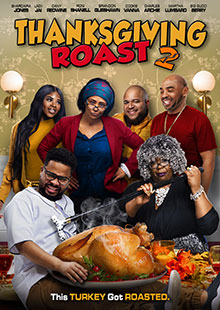 Thanksgiving Roast 2
Own It November 07, 2023
Genre: Comedy, Holiday
Runtime: 74 Minutes
UPC: MAV-6042, 824355604221
Storyline
Single and work-obsessed, Mya, reluctantly visits her family in North Carolina she has not seen in years, after her friend Jasmine insists. To avoid the discomforting pressure her family puts on her to get married, she hires a man to join her and play her boyfriend. Chaos ensues as soon as they arrive to meet Mya's over the top family. A wild Thanksgiving holiday is in store for all when Mya's charade does not go as planned.
Cast
Shardaira Jones, Ladii Jai, Dany Redwine, Roni Shanell, Brandon Queshawn, Cookie Vanna, Charles Archie, Martha Lumbard, Big Gucci Berry
About the Crew
Marvin MJ Harrell is a director and cinematographer known for Man Man: Chapter One (2019), Brandon Queshawn: Everybody's a Target (2023), and Thanksgiving Roast 2 (2023).
Brandon Queshawn is a profound entertainer hailing from Grand Rapids, Michigan. Brandon had made people laugh since he was a little bit and is continuing in his career all over the country. It has been said when you see Brandon's stand up, what this man says or does on stage will blow your mind, with physical humor and on relevant topics. He will make you think and have you laughing at the same time Brandon's comedic timing and charm will have you in a trance from what happens on stage, it is portrayed or the television, movies, and radio. Brandon is currently available for all comedy shows across the country as well as to showcase his talents in other avenues 17 years in the comedy business.