Rent or Buy Now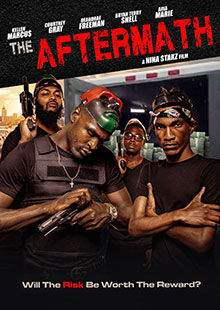 The Aftermath
Own It December 14, 2021
Genre: Action, Crime, Thriller
Runtime: 80 Minutes
UPC: MAV-5782, 824355575422
Storyline
After the new guy botches a perfectly planned armored car heist, 4 crafty criminals are left trapped with the police closing in on them. Tensions rise as they try to find a way out with a hard-nosed detective hot on their trail. Will the risk be worth the reward?
Cast
Kellen Marcus, Courtney Gray, DeAndrae Freeman, Bryan Terry Snell, Aria Marie
About the Crew
Nina Stakz is a director, producer, and writer known for New Year, New Us (2021), The Aftermath (2021), and The Betrayal (2021).
Kellen Marcus is an actor known for Anchorman 2: The Legend Continues, The Confession of a Black Man (2017), New Year, New Us (2021).
Courtney Gray is an actor known for Meet the Browns (2009-2010), Let It Shine (2012), New Year, New Us (2021), and Entanglement (2021).
Gallery
Gallery Images are Coming Soon.