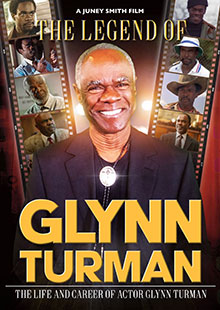 The Legend of Glynn Turman
Own It June 20, 2023
Genre: Documentary
Runtime: 96 Minutes
UPC: MAV-5959, 824355595925
Storyline
The life story and career of legendary actor Glynn Turman. At 12 years old he made his Broadway debut in the classic and original production of "A Raisin in the Sun" opposite all-time great, Sidney Poitier. For the last 6 decades he has graced the silver screen, television, and stage with performances of brilliance and excellence. The film chronicles his childhood, born in New York to his journey to Hollywood, becoming one of the world's best actors.
Produced By
Glynn Turman, Juney Smith
About the Crew
Glynn Turman is an actor, director, and producer with several years of experience and accolades. He began his film career in the 1970s with such "blaxploitation" flicks as Honky (1971), Five on the Black Hand Side (1973), Together Brothers (1974) and Thomasine & Bushrod (1974), then advanced to the cult classic Cooley High (1975), plus The River Niger (1976) and A Hero Ain't Nothin' But a Sandwich (1977). TV-movies included the prestigious Centennial (1978), Attica (1980) and Minstrel Man (1977), for which he won his third NAACP Image Award, Race to Freedom: The Underground Railroad (1994), Buffalo Soldiers (1997) and Freedom Song (2000). The actor has also participated in such mainstream, audience-favorite, adrenalin-packed movies as Gremlins (1984), Out of Bounds (1986), Deep Cover (1992), How Stella Got Her Groove Back (1998), Subterfuge (1996), Sahara (2005), Burlesque (2010), Super 8 (2011), Bumblebee (2018), and Ma Rainey's Black Bottom (2020).