Rent or Buy Now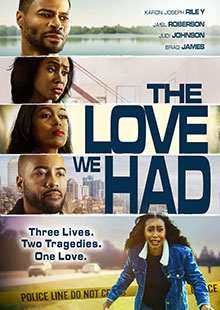 The Love We Had
Own It January 04, 2022
Genre: Drama, Romance
Runtime: 84 Minutes
UPC: MAV-5771, 824355577129
Storyline
One decision results in a tragedy that threatens to rip a young couple apart at the seams while essentially destroying everything and everyone who means the most to them.
Produced By
Jaime Randel, Karon Joseph Riley, Brad James
Directed By
Javier McIntosh
Cast
Karon Joseph Riley, Ja'el Roberson, Judi Johnson, Brad James
About the Crew
J Carter is a writer and producer known for The Morning After (2018), Make Time 4 Love (2021), and The Love We Had (2021).
Brad James is an actor known for The Choice (2016), For Better or Worse (2011-2016), and A House Divided (2019-2021).
Karon Riley is an Ex-NFL player turned actor known for Marry Me for Christmas (2013), Insatiable (2018), Ambitions (2019), Little (2019), and Pinch (2020).
Judi Johnson is an actress known for Tyler Perry's If Loving You Is Wrong (2015-2016), Like Family (2017), and Double Cross (2021).
Ja'El Roberson is an actress known for Comeback Dad (2014), The Christmas Swap (2016), and Love by Chance (2017).