Rent or Buy Now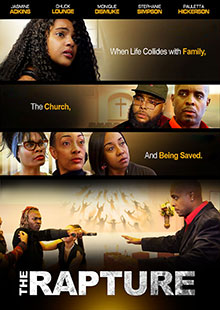 The Rapture
Own It September 21, 2021
Genre: Drama, Faith Based
Runtime: 64 Minutes
UPC: MAV-5742, 824355574227
Storyline
A journey into the lives of a seemingly perfect family reveals a complicated past where the music of life collides with family, the church, and being saved.
Produced By
Pharoah Powell, Monique Dismuke
Directed By
Pharoah Powell
Cast
Jasmine Adkins, Chuck Lounge
About the Crew
Pharoah Powell is an actor and producer, known for Watch Phoenix Rise (2015), Basketball 3:16 (2015), Hunting Season (2016), and All the Love (2020).
Garrett Charles is an actor known for Under Belly (2016), 65th (2017), and The Rapture (2021).
Monique Dismuke is an actress, director, and producer The Female Law Firm (2012), Family First the Marshawn Lynch Story (2015), and The Leather Coat (20210.