Rent or Buy Now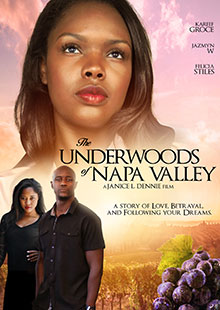 The Underwoods of Napa Valley
Own It November 20, 2018
Genre: Romantic
Runtime: 97 Minutes
UPC: MAV-5567, 824355556728
Storyline
Unemployed chef, Briana Rutledge, inherits her grandmother's cottage in Napa, California. She sets out to turn the cottage into her dream restaurant, but Tiffany Young and her father, restaurateur Nathaniel Young, plot to run Briana out of town.
Produced By
Janice L. Dennie, Gregory D. Reed Sr.
Directed By
Janice L. Dennie, Gregory D. Reed Sr.
Cast
Kareef Groce, Jazmyn Washington
About the Crew
The Underwood's of Napa Valley is based on the book 'Kenton's Vintage Affair' which reached #3 on the Amazon Best Sellers list.
Janice L. Dennie is an Amazon.com bestselling author of THE UNDERWOODS OF NAPA VALLEY Book Series. In 2016, she threw her hat into the film industry by forming Kente Productions LLC, her independent film company that develops scripts, handles casting and filming.
Felicia Stiles is an actress, known for Bumblebee (2018), Freshman Year (2018) and Redemption Trail (2013).
Gallery