Rent or Buy Now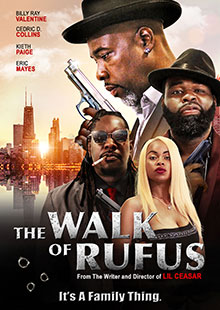 The Walk of Rufus
Own It April 05, 2022
Genre: Crime, Drama
Runtime: 100 Minutes
UPC: MAV-5788, 824355578829
Storyline
Eldest son, Rufus, takes over the family empire of running the streets of Chicago, but change comes at a cost.
Produced By
Billy Ray Valentine
Directed By
Billy Ray Valentine
Cast
Billy Ray Valentine, Cedric D. Collins, Keith Paige, Eric Mayes
About the Crew
Mark Anthony Mathews (Billy Ray Valentine) born and raised in Chicago, Illinois, started his career in the entertainment industry in 1986. It was music that inspired him to drive for his dream in the film industry. After 20 years of music, Mark began his film journey shooting music videos and sort films. In 2019 he shot and directed his first full length feature MAGIC which was released in March of 2020 and Lil Ceasar was his sophomore film that came out in 2020.
Eric Mayes is an actor known for Magic (2020), White People Money (2020), and Gain the World (2021).