Rent or Buy Now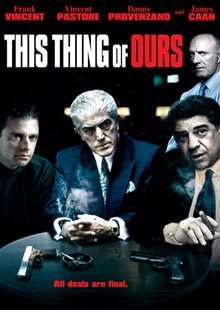 This Thing of Ours
Own It March 07, 2006
Genre: Action
Runtime: 100 Minutes
UPC: MAV-5164, 824355516425
Storyline
Nicholas Santini (Danny Provenzano) is a young man trying to earn his 'button' as a full-fledged member of the governing counsel of a New Jersey-based Cosa Nostra chapter, better know as, The Mob. Trying to impress his notorious elders, including his influential Uncle Danny (Frank Vincent, 'The Sopranos'), he schemes up a spectacular robbery that can make millions. As he is no longer content to plunder tractor trailers on New Jersey highways, Nick conspires with a computer genius from the old neighborhood in Brooklyn to plant a modified computer chip on a communications satellite that will allow him to siphon off spare change from several million bank accounts. But his internet bank scam leads to a fateful meeting when Nick is forced to choose between loyalty to his friends and a promotion in the organization. Or, a death verdict for one of their own. 'This Thing of Ours' stars James Caan of 'The Godfather' and Frank Vincent, Vincent Pastore of 'The Sopranos' and Edward Lynch 'The Exorcist'. Co-written and directed by Danny Provenzano.
Directed By
Danny Provenzano
Cast
James Caan, Frank Vincent, Vincent Pastore, Danny Provenzano, Edward Lynch, Louis Vanaria, Christian Maelen, Chuck Zito, Pat Cooper, Anthony Castelli, and introducing Paul Vario
About the Crew
Starring Heavy Hitters and seasoned veteran actors, James Caan (The Godfather), Frank Vincent, Vincent Pastore (The Sopranos) and Edward Lynch (The Exorcist).
Bonus Music Video Starring Steven Tyler and Joe Perry of Aerosmith in a mock of the original Godfather scene.
'This Thing of Ours has a claim to authenticity that most gang movies do not'. noted writer, Dave Kehr, New York Times.
Film opens with tense scenes: Mobsters young and old deciding what to do about a longtime Mafioso's who's crossed the line.
Filmthreat.com gives 'This Thing of Ours 3 1/2 stars.
E! Online rates This Thing of Ours, 'a very real, very well connected crime caper... reaps dividends'.