Rent or Buy Now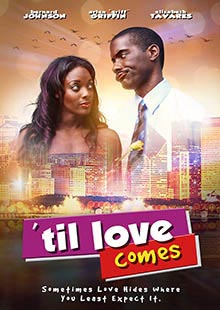 Til Love Comes
Own It October 03, 2017
Genre: Romantic, Comedy
Runtime: 77 Minutes
UPC: MAV-5538, 824355553826
Storyline
After experiencing a devastating breakup, Bass is set up on a series of disastrous dates by his concerned family. However, dating isn't easy and sometimes love hides where you least expect it.
Produced By
Jay Williams, Orlando Thompson, Joseph Stovall
Cast
Elizabeth Tavares, Bernard Johnson, Arlen "Griff" Griffin
About the Crew
Jay Williams is an actor and editor, known for ''Til Love Comes' (2014), 'Baby Mama's Club' (2010) and 'The Death of John Doe' (2013).
Marie is an actress, singer and producer known for 'Endless Love' (2014), TV One's 'To Hell and Back' (2015), and Tyler Perry's 'If Loving You is Wrong' (2014).
Bernard Johnson is an actor, known for 'Baby Mama's Club' (2010), 'My Soulfa' (2008) and ''Til Love Comes' (2014).
Miko DeFoor is an actor and producer, known for 'Soul Men' (2008), 'Lottery Ticket' (2010) and 'Fab Five: The Texas Cheerleader Scandal' (2008).
Gallery