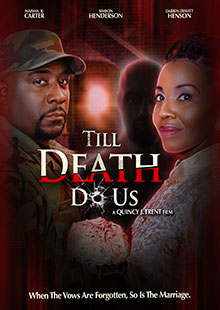 Till Death Do Us
Own It September 05, 2023
Genre: Romance, Thriller
Runtime: 96 Minutes
UPC: MAV-5980, 824355598025
Storyline
Marcus falls in love with Jessica, who has her own house and wants to start a family. Shortly after their honeymoon, Jessica's past life comes back in to the present. When Jessica's long lost husband reappears back in her life, and wants his family back. Marcus and Jessica are not willing to give up their new life, but her ex-husband is determined to win her back, even if it means risking his life.
Produced By
Quincy J. Trent
Directed By
Quincy J. Trent
Cast
Darrin Dewitt Henson, Maisha R. Carter, Simeon Henderson
About the Crew
Quincy Trent is a director, writer, and producer known for All for the Money (2019), Death by Envy (2022), Fatal Witness (2023), and Chi City Undercover (2023).
Darrin Dewitt Henson is an actor known for Stomp the Yard (2007), Black Coffee (2014), A Christmas to Remember (2015), Blackbear (2019), and The Family Business (2018-2022).
Simeon Henderson is an actor known for God's Purpose (2015), No Regrets (2016), The Best Thing! (2017), Professor Mack (2019), and Death By Envy (2022).